Corporate Gift Ideas for Every Occasion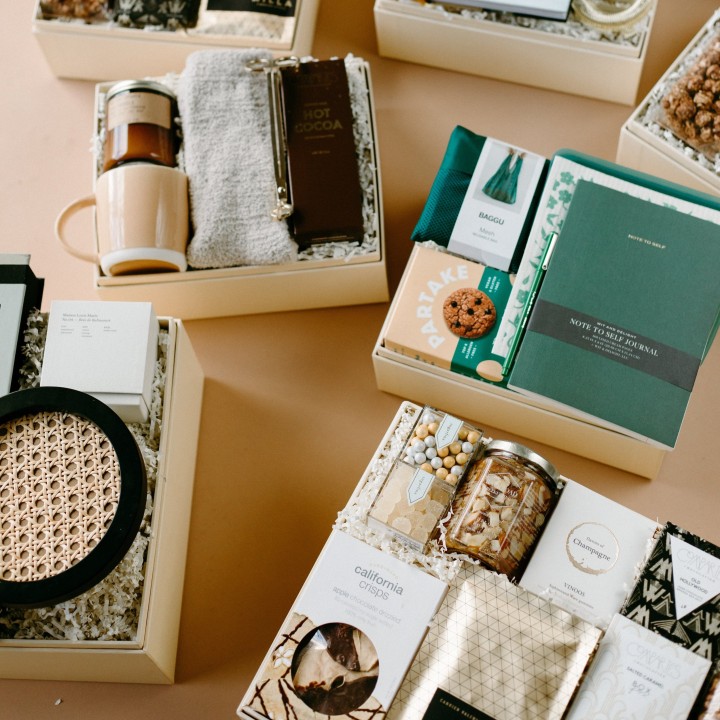 When it comes to corporate gifting, finding the perfect gift for every occasion can be a daunting task. Whether it's to show appreciation, celebrate or strengthen business relationships, the right corporate gift can make a lasting impression. In this guide, we will a variety of corporate gift suitable for every occasion.
1. Employee Appreciation Gifts
Recognizing the efforts of your employees is crucial for employee satisfaction and retention. Consider these gift ideas:
Personalized Desk Accessories: Engraved nameplates, customized mugs, or stylish pen sets are great options that can make your feel valued and appreciated.
Packages: Show your employees you care about their well-being by gifting wellness packages that include items like essential oils, journals, and relaxation tools.
2. Client Gifts
Building and maintaining strong with your clients is essential for business growth. Consider these gift ideas:
Customized Gift Baskets: Create customized baskets filled with gourmet treats, fine wines, or premium chocolates. Personalize the items to reflect your client's preferences or include items with your company logo.
Luxury Office Elegant and high-quality office accessories like leather-bound notebooks, luxury pens, or desktop organizers can make impressive client gifts.
3. Celebratory Gifts
From celebrating the successful completion of a project to milestone anniversaries, corporate celebrations call for special gifts. Consider these gift ideas:
Engraved Crystal Awards: Recognize achievements and milestones with elegant crystal awards. Engraving the recipient's name and the occasion will add a personal touch.
Experience Vouchers: Treat your clients employees to unforgettable experiences like spa retreats, helicopter rides, or gourmet cooking classes. experiences create lasting memories and demonstrate commitment to their well-being.
4. Conference and Trade Show Gifts
Attending conferences and trade shows provide the perfect opportunity to leave a lasting impression on potential clients and business partners. Consider these gift ideas:
Branded Tech Gadgets: Stand out by offering branded tech gadgets like power banks, USB, or wireless chargers. These practical gifts will keep your in long after the event.
Promotional Items: From branded pens and notebooks to keychains and tote bags, promotional items can serve as excellent giveaways, keeping your brand visible and memorable.
Where to Find the Perfect Corporate Gifts
If you're looking for a wide range-quality gift options, look no further than Gifts and Prints. They offer a diverse collection gifts that can be tailored to suit any occasion. From personalized office accessories to branded promotional items, you'll find everything you need impression.
Conclusion
In conclusion, corporate gift-giving is a powerful tool for building and strengthening business relationships. By selecting the right gift for every occasion, you can show appreciation, celebrate milestones, and create a positive and memorable impression. the preferences and interests of your recipients and personalize the gifts where possible. And when you're in need of the perfect corporate gift, look no further than Apex Gifts and Prints. With their wide range of options, you'll find the ideal gift for every.
Q1: What is the psychology behind gift giving?
A1: Gift-giving taps into the psychology of social connection and reciprocity. It fosters positive emotions, strengthens relationships, and communicates care and thoughtfulness, creating a sense of connection between giver and receiver.
Q2: How do you make a unique gift?
A2: To create a unique gift, consider the recipient's interests, customize it, or add a personal touch like handwritten notes or memories. Handmade items, experiential gifts, or thoughtful gestures often stand out.
Q3: Is it okay to give a gift to your crush?
A3: Yes, it's okay! A thoughtful, modest gift can express interest and be a subtle way to show you care. Just be genuine and considerate in your approach.
Q4: What makes the perfect gift?
A4: The perfect gift is thoughtful, tailored to the recipient's preferences, and evokes positive emotions. It shows care, consideration, and a deep understanding of the person you're gifting, making it memorable and special.